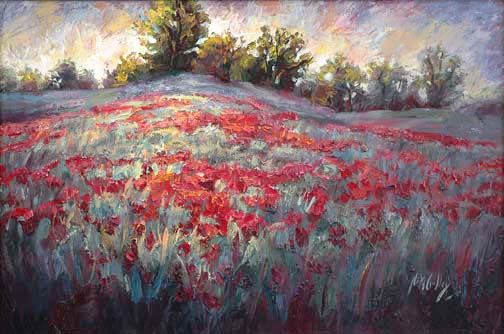 "Red Carpet Ride" ©2020 Niki Gulley
SOLD
• 24″ x 36″ textured oil painting on wrap around canvas
Just Sold through the Good Art Company!
In this Texas wildflower series, I wanted to capture the excitement and energy felt during a beautiful day in April when the Indian Paintbrush, bluebonnets and wildflowers are painting the horizon in gorgeous shades of reds and blues.
Driving through the Hill Country late one day, the sun was just starting to drop, casting this golden hue across all of the wildflowers it hit causing them to glow and dance in the warm light. Deep, long shadows and the abundance of rich crimson Indian Paintbrush added to the drama and magic of the moment. Focusing on the patterns of color and contrast of lights and darks, I wanted to communicate the emotion felt being surrounded by all of this Texas beauty.
For more information on "Symphony in Springtime" series, please contact my gallery, the Good Art Company, in Fredericksburg, TX at goodartcompany.com/gacart/index.php?main_page=index&cPath=25&sort=20a&page=1&z.