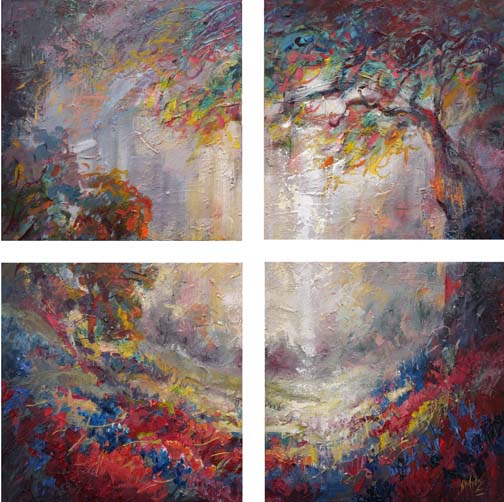 Niki Gulley was classically trained for six years in all 2-D media, starting with drawing from life and completing her studies with oil painting at a private art school in Chicago, IL. She continued her art education at SMU in Dallas. Taking the traditional lessons she learned from the Old Masters and Impressionist techniques, she incorporates a contemporary flare to bring a unique, modern feel to her creations. Gulley works with only the highest quality archival museum materials. Whether working in oils or acrylics, each painting may take up to weeks or months to create since she builds up multiple layers to establish the luminosity and textural depth associated with her 3-dimensional expressionistic paintings.
Gulley's artwork not only has a loyal local following, but is also collected around the globe. She has exhibited at the Dallas Museum of Art, and in commerical galleries from New York City to the West coast. Currently, she is represented by AO5 Gallery in Austin, TX, The Good Art Company in Fredericksburg, TX, Marigold Arts in Santa Fe, NM, Brandon Jacobs Gallery in Kansas City, MO, The Statton Gallery in Eureka Springs, AR and Studio Seven Arts in Pleasonton, CA. Besides exhibiting in competitive national, international and museum exhibitions, her award-winning paintings are also hanging at Presbyterian Hospital in New York City, Baylor Medical Center in Dallas, Prime Lending Corporate Headquarters and Northstar Bank of Texas. Gulley is also a memeber of the prestigious Oil Painters of America Society and the American Impressionist Society.
In addition to painting for almost 20 years full-time in her Dallas studio, Gulley and her husband, Scott Williams, lead painting and photography workshops and Foodie Treks all over Europe through www.ArtTreks.org.
________________________________________________________________________
A Note from Niki –
Currently, I am playing with multiple layers and extremely thick paint, creating three-dimensional canvases that flow with light, energy and color. Focusing on showing the landscape in a new and unconventional way, I want to show a twist on reality with nature abstracted. These energetic expressions are designed to lift people's spirits and instill a sense of hope and serenity, while leaving some interpretation up to the viewer's imagination.
Also, I have a gallery displaying my new smaller paintings that I create on site from our travels throughout Europe and most recently, Iceland, Portugal and France. Full of spontaneity and emotion, I feel like these location paintings really bring the memories of traveling to life.
Lastly, our Art Treks were a huge success and much needed treat this year! In 2022, we are bringing back our popular Foodie Trek to Tuscany and a brand new Art Trek to Alsace, France. Spaces fill up quickly, so let us know if you would like to come along or if you have any questions. Check out our Art Treks website for more details, ArtTreks.org. We'd love to have you join us on one of these exciting adventures!
UPCOMING ART TREKS:
Alsace, France – Aug. 2022
FoodieTrek – Tuscany, Italy – Oct. 2022
– Niki Gulley