US Classes Workshops
Aug. 9-10, 2013
Dutch Art Gallery
10233 E. Northwest Hwy., Dallas, TX  75238
This workshop has been designed to help you add vitality, energy and color to your paintings. Day one will get you off and running with a demonstration, along with numerous examples and ideas, followed up by several exercises to help improve your paintings and make them sing with color. Day two will be the stage where Niki will help you take what you learned the day before and apply it to your own painting, giving each student personalized attention and suggestions, transitioning your work into a freer flowing style filled with exciting color!
For pricing and registration information, please contact Pam at the Dutch Art Gallery, 214-348-7350.

_________________________________________________________________________________
Adult Art Classes
Playing with Color
Through guidance, encouragement and suggestion, learn how to create gorgeous paintings. With enrollment limited to six students, receive personalized attention similar to what you would experience in private lessons. Bring your favorite medium and develop your skills in oils, watercolors or pastels.
Price for all levels: $195
Tuesdays Oct. 15 – Nov. 19
9:30 – 11:30
12:30 – 2:30 pm
3 – 5 pm
7 – 9 pm
Maximum class size of 10.
Make-up lessons available during opposite class times.
Near the intersection of Northwest Hwy. and Abrams Rd. in Dallas
Email Niki, nikigulley@sbcglobal.net if you are interested
Next Session: Jan. 2014
_____________________________________________________________________________________
PAST WORKSHOPS:
Plein-Air Painting  & Photo Workshop
Taught by Niki Gulley & Scott Williams
Santa Fe, New Mexico
August 2011 & 2012
There is something about Santa Fe that has drawn artists there for decades, the Light. The clean pure radiant quality of the sunlight bathes the region in a glow that makes colors come alive and adds a richness to the surroundings. This is the landscape that inspired Georgia O'keeffe and Ansel Adams, now it's your turn. Capture the beauty of a river that has carved its way through the rugged terrain or a pueblo set against a snow capped mountain backdrop. This is one of those places that allows you to witness nature's staggering beauty amid a setting straight out of the old west. Its location affords the opportunity to capture everything from desert to mountain and from rivers to pueblos. Along with its ideal climate and abundance of natural settings, it makes New Mexico an artist's paradise.
Niki will conduct the Plein-Air Painting Workshop from different picturesque locations daily, teaching through a combination of demos, discussions, assistance and critiques. Sessions will be broken into different morning and afternoon locations, with plenty of time in between for shopping, sightseeing or for a leisurely lunch.
Scott will take the photographers on a daily tour where you will have the opportunity to experience Santa Fe through your lens as Scott guides you to use your camera to define what you see while achieving your own artistic vision. As with the painters, there will be daily destinations with time allowances for exploring on your own.
This unique Workshop affords you the option to choose which aspect interests you, whether it is painting, photography or both. Thereby giving you an opportunity to make the most of your Santa Fe experience.
There will also be valuable critique sessions throughout the workshop. This will give everyone an opportunity to discuss the day's events, compare notes, ask questions and get a chance to know each other. It also presents a unique option to get views and perspectives from both painters and photographers.
Niki has been painting for more than 20 years, and is a nationally acclaimed artist whose work is much sought after and collected, as well as being an accomplished painting instructor with over 10 years of experience. Scott has taught college photography, has led workshops in the US and Europe, is a guest lecturer and is a working commercial photographer. Both Niki and Scott are passionate about art and love helping others refine their skills while guiding them to find their own muse in life.
So come join us as we take you on an inspirational exploration of Santa Fe with an emphasis on observation and perception as we help you develop your own style.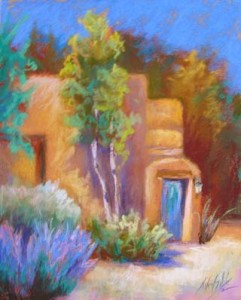 Space is limited on a first-come / first-served basis, so we encourage you to enroll as soon as possible.
Work Shop includes:
Private van transportation to various locations in and around Santa Fe, including side trips with stops at Chimayo and Ghost Ranch. (You are responsible for your own transportation arrangements to Santa Fe.)
Lodging for 6 nights amid the scenic Santa Fe landscape. (Pricing is for shared rooms)
Meet & Greet Party Sunday Night
Gallery Visits
Breakfast
3 days of box lunches
Instruction, guidance, experience and fun
Your cost for all of this is $1,600 if a deposit of $500 is received. We can take credit card payments, however it will incur a 3% fee.
To reserve a spot, simply send a completed application form along with your deposit. Forms will be provided upon request.
In the event of inclement weather, arrangements will be made for museum visits etc. There will be no rain dates or refunds for weather or travel difficulties.
Please let us if you have any questions or if we can help you in any way. We hope that you will be able to join us!
Niki Gulley
214-803-5812
E-mail Niki Gulley
To see Scott Williams website, go to blind-squirrel.org.